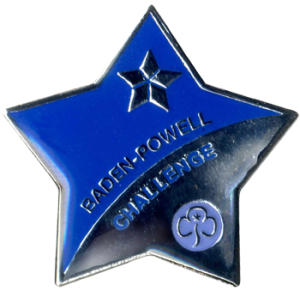 The Baden-Powell Challenge Award is the highest award a Guide can achieve. To start the Baden-Powell Challenge you need to have:
• made your Promise
• gained at least two Guide Challenge Badges
• gained at least two interest badges.
This shows your commitment to guiding.
The Baden-Powell Challenge is divided into five zones, each containing lots of different clauses. You need to complete ten clauses in total. You should do one from each zone, then five more. These can come from any of the zones. Up to two of them can relate to Country/Region or Girlguiding initiatives.
To finish the Award you need to take part in a Baden-Powell Adventure. These are usually residential events organised by your County or Country/Region for all Guides in the area who are doing the Baden-Powell Challenge.
Within Girlguiding Middlesex East we have a BP Registration form which will help the county offer support and track progress through the award, please complete this form when girls start and send it to Carole Bowley, guides@ggme.co.uk.
Update
Due to Girlguiding's New Programme implementation, the BP Award has now been replaced by The Gold Award for Guides which is the highest award a Guide can achieve. The final BP Adventure is being held on 6th to 7th of July 2019 at Northern Heights. Contact Carole Bowley if you'd like you register.